Stuck in a Gray Area in April
---
Zack Gardner
Grain Marketing & Origination Specialist
MID-APRIL WAS
an interesting time. We had a solid first week of planting mid-month, but then rain and flurries kicked us out of the field. New crop corn futures were a direct reflection of the weather. Generally speaking, we're still above breakeven, but we just can't seem to get back up to a price level at which most of us would like to sell more. So, we're stuck in this gray area right around the USDA's projected price for next year until one of two scenarios plays out: 1) Either the weather in the Midwest will give us another break and we'll continue at an above-average planting pace, or 2) We won't get a break in the weather, and we'll start to spiral down the path of yield loss concerns due to late planting, switching acres last minute and prevented planting.
Take a look at the snow map from April 17. At that time, we were at roughly 7 percent planted corn in Iowa and 8 percent nationwide. The "I" states have had a pretty good jump on planting, and the Dakotas aren't looking too bad either because their snowpack has melted off pretty well. These conditions might bring some flooding concerns into the market headlines, but the Dakotas do have almost two months left to dry out and get seed in the ground.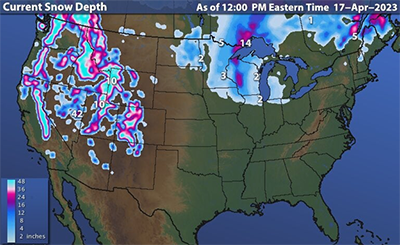 In my opinion, the predominant story for the next two months will be U.S. weather and planting. There's not much room for error on our crop, so our weather story will be the most closely watched, other than a couple of potential black swan headlines throughout the rest of the world. Probably the most prominent such headline outside the U.S. is the continued dispute between the U.S. and Russia on the extension of the Black Sea grain export agreement. The United Nations is saying that the agreement was extended for six months, while Russia is saying only three months if banking sanctions fail to be lifted. This dispute could take Ukraine's available grain supply off the market on May 18, which tells me that old crop grain prices needed to keep a premium in case this happens.
The second potential black swan headline would be a war with China over Taiwan. In the past couple of weeks, tensions between the U.S. and China have been increasing. Clearly, I don't know what, when or if anything will happen between China and us, but it makes me nervous knowing that they consume roughly half the world's grain. Remember what our soybean prices were just a couple years ago when we had a trade war with China and lost that demand?
Lastly, Brazil's safrinha corn crop will be worth watching. The tail end of their bean harvest ran dry, but since planting their second crop, Brazil has received some solid rain. With a global weather pattern supposedly changing from La Niña to El Niño, Brazil has the potential to get the continuous rainfall they need to produce a better-than expected corn crop.
Read More News
Earn a $50 gift card for every 100 gallons of qualifying premium Cenex® Lubricants purchased November 1, 2023 - February 29, 2024.
The 2023 growing season was successful and the numbers prove it. Seed Specialist Mike Tufte gives a thorough year-end review, discussing Growing Degree Units, rainfall and yield.